Volunteer Information

Help teach a Cornell University course in prison!
Thank you to all of the wonderful applicants who proposed courses, and applied to teach or assist in teaching during 2016. We are currently welcoming course proposal and applications for Instructors and Teaching Assistants for the Summer and Fall 2017 semesters: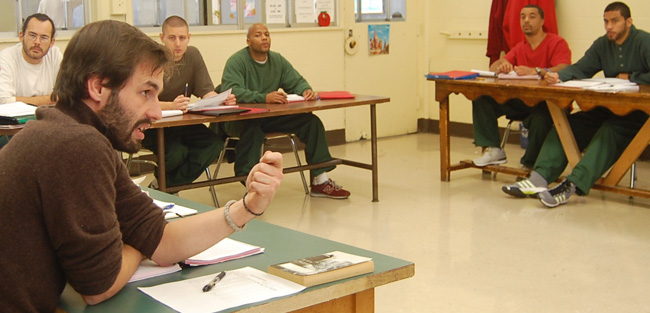 Teaching Assistant Eligibility
All graduate students and sophomores, juniors and seniors are welcome to support classes as teaching assistants. (Freshmen are encouraged to wait until their second year on campus to apply). We typically have 25-30 teaching assistants in the prison classrooms each semester. TA's facilitate discussion, tutor students in writing & math, participate in classroom dialogue, help instructors prepare lectures and materials, etc. For more specifics on the TA application process, click here.
Course Instructor Eligibility
If you are a doctoral student who has passed the 'A' exam, you are eligible to submit a proposal to teach your own course in the prisons. We are able to subsidize 7 doctoral candidates as instructors each semester. When considering this option, please contact Rob Scott, Executive Director, to learn about the selection process and curricular needs. For application materials and course proposal info click here. .
Faculty members and postdoctoral fellows are encouraged to volunteer as instructors and should contact CPEP's Executive Director, Rob Scott (rs965) to discuss this possibility.
2016-17 Dates for Applying Instructors and TAs
March 31, 2017: Fall '17 TA Applications due
May 19, 2017: Spring Semester complete
June 5, 2017: Summer '17 Session courses begin
July 9, 2017: Spring '18 Course Proposals & Instructor Applications due
July 28, 2017: Summer '17 Session courses end
August 28, 2017: Fall '17 Semester courses begin
October 6, 2017: Spring '17 TA Applications due
December 15, 2017: Fall '17 Semester courses end
January 7, 2018: Fall '18 Course Proposals & Instructor Applications due
Informational Links