Apply to be a TA
There are two main steps in applying to be a teaching assistant (TA) in the prison education program: (1) completing an application (see PDF below) which includes several components that must be requested in advance of the deadline such as academic transcripts and letters of reference, and (2) matching applicants with complete, accepted applications with courses being offered in the program for which they would serve as suitable TAs. We prefer application submissions that are complete, printed single-sided, with all signature lines double-checked, and delivered to our office at 300 Kennedy Hall at the Cornell University Campus in Ithaca.
Full consideration will be given to all application materials received by March 30, 2018 for the Fall Semester in 2018.
Application for Teaching Assistants:
Eligibility: Graduate students and undergraduates
excluding first-year students
may apply to serve as teaching assistants for the courses taught inside prison walls. (Freshmen are encouraged to wait until their second year on campus to apply). We typically have 25-30 teaching assistants in the prison program each semester. TAs may be asked to help facilitate classroom discussions, tutor students in writing & math, help instructors manage the classroom, prepare materials, etc.
To apply, please submit all of the following to our office at 300 Kennedy Hall on campus:
We are often asked by already active Teaching Assistants what is the protocol for re-applying to volunteer for an additional semester. Fortunately, there is significantly less paperwork involved. Simply complete bottom of the first page of the above form and submit it to our office on campus.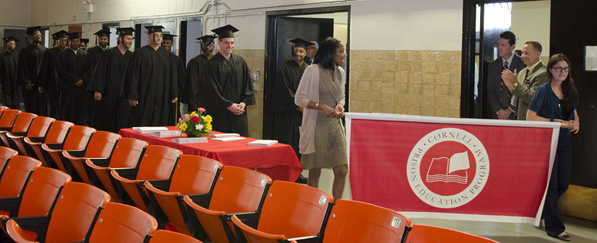 Undergraduate volunteers Niajee Washington (left) and Adina Rubin-Budick (right) carry the CPEP banner as the graduating class enters through the back entrance of the auditorium for the graduation ceremony at Auburn Correctional Facility in 2012.