Guest Lecture Series
The Prison Education Program at Auburn hosts four guest lectures in the prison chapel each semester. The guest lecture series has featured prominent Cornell faculty and administrators, visiting scholars, and notable speakers representing various professional fields. The guest lectures expand the variety of subject matter and provide a means for the Cornell community to be introduced to our incarcerated students at Auburn.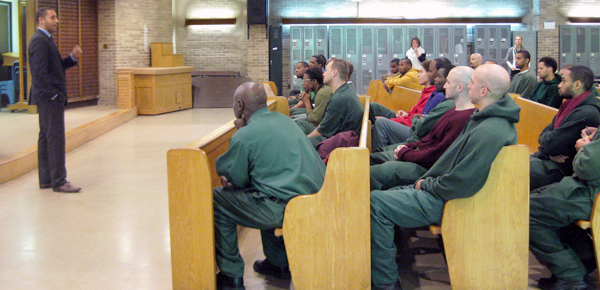 For Prospective Guest Lecturers:
Our Guest Lecture Coordinator is Kyri Murdough (km674). She develops proposals, communicates with prospective lecturers, and co-hosts the guest lecturers at Auburn. She can also answer questions about paperwork, though that can also go directly through Cathi Root (cer235).
Paperwork:
Most prison programs entail a fair amount of paperwork and the guest lecture series is no exception. The following form must be completed and returned to the Prison Education Program long in advance of a given guest lecture.
Completed applications should be submitted to 300 Kennedy Hall.
Nearly Complete List of Guest Lecturers:
Adam Levine, Government, on The Political Process (October 13, 2016)
Phoenix Players Theatre Group will present their performance of "Human Again" (May 25, 2016)
John Hoddinott, Babcock Professor of Food and Nutrition Economics and Policy, will present on Nutrition and global food policy (April 27, 2016)
Lawrence Glickman, Stephen and Evalyn Milman Professor in American Studies, presented Part 1 of his lecture on The New Deal vs. Free Enterprise (March 23, 2016)
Curt Tofteland of Shakespeare Behind Bars, and Tom Magill of Educational Shakespeare Company (ESC) Ltd, on the Impact of Education and Theatre in Prison (February 3, 2016)
Anna Haskins, Sociology, on The Impact on Children of the Incarcerated (January 27, 2016)
Sandra Babcock, Clinical Professor of Law, on International Human Rights (November 25, 2015)
Thomas Gilovich, Irene Blecker Rosenfeld Professor of Psychology, on Judgment and Decision-making (October 28, 2015)
Jamila Michener, Assistant Professor of Government, presented on inequality and democracy (September 30, 2015)
Jill Frank, Government, on the History of Political Thought (September 15, 2016)
Eduardo Peñalver, Allan R. Tessler Dean and Professor of Law, gave a lecture on the intersection of property law and civil rights struggles (April 7, 2015)
Ron Harris-Warrick, William T. Keeton Professor of Biological Sciences, Department of Neurobiology and Behavior, presented on the neurophysiology of addiction in the brain (March 25, 2015)
Fredrik Logevall, speaking about the Vietnam War. Logevall is Stephen '59 and Madeline '60 Anbinder Professor of History, Vice Provost for International Affairs, and Director of the Mario Einaudi Center for International Studies, 2013 Pulitzer Prize winner (was scheduled to speak February 11, 2015 – cancelled due to prison lockdown).
Svante Myrick, Mayor of the City of Ithaca (November 3, 2014)
Joseph Margulies, Visiting Professor of Law and Government, Bi-Partisan Criminal Justice Reform: Much Ado About Nothing or the Next Big Thing? (October 8, 2014)
Jane Juffer, Professor of English and Feminist, Gender, and Sexuality Studies, Cornell University – Becoming/Unbecoming a Woman/Man (September 10, 2014)
Daryl Bem, Professor Emeritus of Psychology, Cornell University – Is there Scientific Evidence for ESP (Extrasensory Perception)? (May 7, 2014)
Neil Hertz, Professor Emeritus of English, Johns Hopkins University – Pastoral in Palestine (April 9, 2014)
Judith Appleton, Vice Provost for Land Grant Affairs, Alfred H. Caspary Professor of Immunology in the Baker Institute for Animal Health, Cornell University – The Hygiene Hypothesis (March 12, 2014)
Robert Scott, Executive Director of Cornell Prison Education Program – Paradigms in Philosophy of Education (March 5, 2014)
Sean Pica, Executive Director of Hudson Link (September 26, 2013)
Provost W. Kent Fuchs, Provost of Cornell University (April 4, 2013)
Paula Ioanide, Assistant Professor, Center for the Study of Culture, Race, and Ethnicity, Ithaca College (Spring 2013)
Neal Zaslaw, Herbert Gussman Professor of Music, Cornell University (February 21, 2013)
Mukoma Wa Ngugi, Asst. Professor of English, Cornell University (January 30, 2013)
Michael Smith, Weill Cornell Medical College (November 15, 2012)
Glenn Martin, Vice President of Public Affairs and Director of the David Rothenberg Center for Public Policy, Fortune Society (November 8, 2012)
Kim Bostwick, Cornell University (October 11, 2012)
Keith Taylor, Professor of Asian Studies, Cornell University (March 14, 2011)
Clint Sidle, Director of the Roy H. Park Leadership Fellows Program in the Johnson School of Management, Cornell University (2010-11)
Robert Frank, H.J. Louis Professor of Management and Professor of Economics, Johnson School of Management, Cornell University (2010-11)
Matthew Brashears, Assistant Professor of Sociology, Cornell University (2010-11)
William Goldsmith, Professor of City and Regional Planning and Director of International Studies in Planning, Cornell University (2010-11)
Roberto Sierra, Professor and Chair of the Department of Music, Cornell University (2010-11)
Ronald Seeber, Senior Vice Provost and Professor of Industrial Labor Relations, Cornell University (2010-11)
Denise Riley, Poet, Critical Theorist, and Andrew D. White Professor-at-Large, Cornell University (2010-11)
Kenneth McClane, W.E.B. Du Bois Professor of Literature and Stephen H. Weiss Presidential Fellow, Department of English, Cornell University (Fall 2010)
Bruce George, co-creator of HBO's Def Poetry Jam with Russell Simmons (Spring 2010)
David Skorton, President of Cornell University, on Cornell's Land Grant Mission (Fall 2009)