Our History
The Cornell Prison Education Program (CPEP) was established to provide college courses to people in prison in upstate New York, and to engage Cornell faculty and students with the vital issue of the country's burgeoning incarceration population. In the mid-1990s when an act of Congress and subsequent state legislation caused the collapse of taxpayer-funded College programs in most state prisons – a move undertaken despite ample evidence that education reduces recidivism by more than 60% – a few faculty members, led by Professor Pete Wetherbee, undertook to offer a handful of classes on a volunteer basis in Auburn Correctional Facility. In 1999, Cornell enabled these college classes to be given for credit, charging neither tuition nor fees.
Before the Cornell Prison Education Program
Cornell at Auburn: An Experiment in Teaching and Learning
(2008)
Pete Wetherbee, Professor Emeritus in English wrote about Cornell at Auburn before the Cornell Prison Education Program, describing prison teaching in the decades after Pell Grants were denied to prisoners.
Professor Wetherbee was joined in these early years by Paul Sawyer (English), Paul Cody (English – Ithaca College) and other colleagues. In 1999, Wetherbee secured an agreement from the School of Continuing Education (Glenn Altschuler, Dean) to offer credit-bearing courses at Auburn free of tuition or fees.
Mary Fainsod Katzenstein (Government) joined the group in 2005 and initiated a search for funding of additional courses and a formalization of the program. The Kaplan Family fellowships (awarded by the Public Service Center to both Pete Wetherbee and Mary Katzenstein) played an important role in launching the initial phases of the program at Auburn. Several families of Cornell undergraduates (the Mehlmans, Wertheimers, and Roizens) supported the roll-out of a program at Auburn and then Katzenstein was successful in securing start-up funds from the Sunshine Lady Foundation as well as additional support from the Provost's office. In 2010, the greatly expanded Cornell Prison Education Program (CPEP) was born. Twelve courses began to be offered each semester. The classes were taught by volunteer faculty and graduate students, supported by undergraduate teaching assistants.
The Associate Degree Program
Cornell University began a partnership with Cayuga Community College to offer an Associate degree program for men incarcerated at Auburn Correctional Facility and Cayuga Correctional Facility. The largely liberal arts curriculum included courses on the natural sciences, humanities and social sciences. Some of the first classes were Introduction to Genetics, Biology, Constitutional Law, International Human Rights, Anthropology of Japan, Representation in Hip-Hop & Political Thought, Shakespeare, Economics, and Medical Anthropology. A collection of Theatre courses led to the formation of Phoenix Players Theatre Group run by the men in the program with support from Bruce Levitt, Alison van Dyke, Judy Levitt. The program also began offering college preparatory courses for students not yet admitted to the credit-bearing college program.
A guest lecture series was launched at Auburn featuring prominent Cornell faculty and administrators in 2010. The series aimed to provide a more vibrant academic community within the prison by providing intellectual enrichment beyond the classroom. The series has included world renowned speakers representing disciplines and special topics unavailable in the curriculum.
In 2010, the program hired its first Director Jim Schecter and Program Coordinator Marge Wolff, which was a pivotal step in developing the degree program which resulted in the first graduation ceremony in 2012. They also launched an initiative to provide college courses to staff of the New York Department of Corrections.
First Commencement – June 5, 2012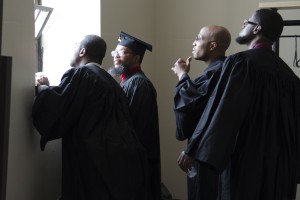 The inaugural commencement saw the conferral of 16 Associate in Arts degrees from Cayuga Community College. The student body took satisfaction in seeing their colleagues publicly celebrated, while a large corps of Cornell supporters and volunteers witnessed the fruition of their students' accomplishment. Graduates' family members, who traveled from Brooklyn, North Carolina, South Carolina, and Florida, savored the experience of witnessing their loved ones' growth. It was the first college commencement held at Auburn Correctional Facility that anyone could remember.
All of this was made possible with the wonderful support from the Sunshine Lady Foundation and Cornell University. The milestones above and our students' efforts push us to continue innovating. Enjoy a glimpse of this moment in our history by viewing the commencement booklet and photos.
Transitions
During 2013, Robert Scott took over as the program's second Executive Director, and Jan Zeserson joined Mary Katzenstein as co-director of development. Nicole Peppin and Kyri Murdough became the program coordinators for Cayuga Correctional Facility and Auburn Correctional Facility, respectively. The 2013-14 academic calendar saw the program offer its 200th course, and the program received a four-year gift from a private donor explicitly to support the college program at Cayuga Correctional Facility. Former CPEP TA Thatcher Barton developed a new record keeping system for tracking students' academic progress. Benay Rubenstein brought her distinguished career as an academic reentry professional to the program in helping initiate the upstart Cornell Reentry Initiative. During Summer 2014, Tyi McCray became the program's Guest Lecture Coordinator.
Second Commencement – December 10, 2014
The second commencement ceremony saw the conferral of 15 Associate degrees (two in absentia as a couple of students had transferred/paroled). Read more about the seccond commencement here.