Download: Volume 5 (Spring 2012)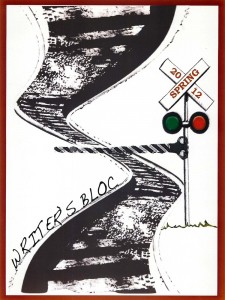 Letter from the staff: (Excerpt)
Each new edition of this literary journal brings to light a new aspect of the incarcerated experience. As many of the pieces in this journal express, the incarcerated experience—much like the student experience—consists of much personal growth on spiritual, mental, and physical levels… …As in the outside world, those in prison suffer from loss, revel in success, and fall deeply in and out of love. In this issue, we at Writer's Bloc ask, how is it possible to move through the many motions and phases of life when one is forced to remain stationary?
Table of Contents
"My Shoes!" – Mr. Anonymous (p. 6)
Drag Racer – Lucas W. Whaley (p. 7)
The Traveler – Eric Paris Whitfield (p. 8)
Walking on Water – Burrell Ashton McLeod (p. 9)
Knowledge – Gregory J Robinson (p. 10)
Relief – William Barnes (p. 11)
Sublimation – Joshua Keppen (p. 12)
The Plan – Andre Cates (p. 14)
March 12, 2012 – Michael Shane Hale (p. 16)