Download: Volume 12 (2016) (5.2 MB!! Left-click "Save as…")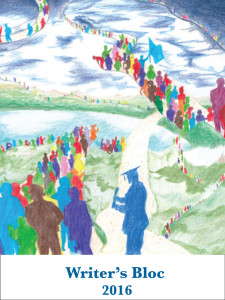 The work encapsulated in this 2016 publication is centered upon the theme of walls and
boundaries. The compiled writing and artwork reflect authors' experiences and interpretations of
this subject. This magazine itself penetrates the very walls of Auburn Correctional Facility,
allowing writers and artists who live on either side to share their stories in one, cohesive volume.
Table of Contents
Artwork by Justin Kelly (front cover)
Life's Song by E. Paris Whitfield (p. 4)
Incomplete Me by Johanna Scarlet Diamond (p. 5)
Morphine Dreaming by Lucien Chin (p. 6)
Rubix Cube by Sheldon Johnson (p. 8)
They Say… by Reggie Bell (p. 10)
The Border by Yena Kang (p. 11)
The Alley by Lucas Whaley (p. 13)
It by Benjamin Moriera (p. 14)
Artwork by Angel Perez (p. 15)
Within These Walls—A Prequel by Kasiem Callender (p. 16)
Yesterday by William Izzo (p. 17)
Her by Lucas Whaley (p. 18)
Restless Days and Sleepless Nights by Louis Kelly (p. 21)
It's All a Matter of Time by Benjamin Moriera (p. 23)
Samuel Langhorne Clemens + The Mark Twain Study by David Edwards (p. 24)
Artwork by Angel Perez (p. 26)
The Path We Walk by Cody Testerman (p. 27)
Within These Walls Haiku 1 by Kasiem Callender (p. 28)
Chemical Romance or Poetic Justice by Just (p. 29)
Just Another Dream by Demetrius Molina (p. 30)
Within These Walls by Kasiem Callender (p. 31)
Eyewitness by E. Paris Whitfield (p. 32)
Undulant by Lucas Whaley (p. 33)
Enforcing Fate's Boundaries by Jacob Russell (p. 34)
Artwork by Angel Perez (p. 36)
Unbreakable by Robert Cartagena (p. 37)
Disappointment by Sheldon Johnson (p. 38)
A Tear Gone AWOL by Raymond VanClief (p. 40)
Wanting More by Louis Kelly (p. 41)
Untitled… by Khalib Gould (p. 42)
The Metal Detector by Emily Kling (p. 43)
Artwork by Maurice Cotton (p. 44)
Within These Walls Haiku 2 by Kasiem Callender (p. 45)
Walls—Physical and Psychological by David Edwards (p. 46)
From Man to Superman—Then Back Again by Raymond VanClief (p. 53)
The Reality of the Garden by Lucas Whaley (p. 54)
Acts of Kindness by Leroy Lebron Taylor (p. 55)
Untitled by Christopher Wallace (p. 58)
Claribel by Jacob Leahy (p. 59)
Desert Rain by Hannah Mueller (p. 60)
Mein Haus by E. Paris Whitfield (p. 63)
Walls by Jake Meiseles (p. 64)
Musing with Mythology by David Alleyne McKean Brander (p. 65)
Within These Walls 1.5 by Robert Cartagena and Kasiem Callender (p. 66)
Untitled by Quentin Lewis (p. 67)
Walls of Conspiracies by Tyreek Williams (p. 70)
Warning by Reggie Bell p. 71
New Borders by Maurice Cotton (p. 72)
Forbidden Love by William Izzo (p. 73)
Artwork by Angel Perez (p. 74)
Transgentrification by Johanna Scarlet Diamond (p. 75)
Looking Glass by E. Paris Whitfield (p. 76)
Within These Walls Haiku 3 by Kasiem Callender (p. 77)
Rentals by Emily Jones (p. 78)
Bedroom Walls by Sophie Allen (p. 80)
¡! by Anonymous (p. 81)