Download: Bridges (Fall 2011)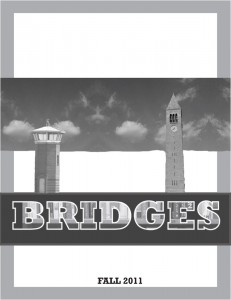 From the Editors: (excerpt)
"BRIDGES" is a community action project by students from Anke Wessel's AEM 3380: Social Entrepreneurship class. We began working with the Cornell Prison Education Program (CPEP) in early October 2011 in order to design a project that would apply the concepts learned in class to real life, and thereby create positive change in our community. One of the concepts highlighted in class is the "We Story", which is the idea of understanding the lives of others through a lens of "we" rather than "us" and "them". This publication is meant to bring together the opinions of individuals from differing backgrounds, communities, and circumstances in an effort to learn from one another. By asking our contributing writers to speak to the same question and publishing it in a journal that is accessible to all, we hope to create a "bridge" between all sorts of people from all walks of life.
We hope you enjoy reading these works, and we hope you will consider joining the conversation and being part of this "We Story" in the future.
Thank You,
Rebecca Kaplan
Fathi Abdelsalem
Arsi Qajar
OreOluwa Badaki
Table of Contents
Stream of Consciousness – OreOluwa Badaki (p. 4)
Like A Bridge – E. Paris Whitfield (p. 5)
Balance Point – David Bendezu (p. 6)
Real Education – Fathi Abdelsalam (p. 7 )
Life at Cornell – Danie Banks (p. 8)
Education That Builds – Maurice Cotton (p. 9)
Bridges of Education – Ryan Austin (p. 10)
Fruitful Conversation – Caitlin Parker (p. 11)
Untitled – Steven Grant (p. 12)
Ivy Leaves Amongst Poison Weeds – Joshua J. Keppen (p. 13)
An Education – Jie Min (p. 14)
Getting Better – Andre Cates (p. 16)
Outlet – Eleni Konstantopoulos (p. 17)
Punctuation – Adina Rubin-Budick (p. 18)
Bridges of Confidence – Leroy Taylor (p. 19)
Mirror, Mirror on the Wall – Michael Shane Hale (p. 20)
Proof – Emily Foreman (p. 21)
Choices – Rachel Harmon (p. 22)
The High Road – Corey Klase (p. 24)
Education: It's About Us – Arsi Qajar (p. 25)
Images of Bridges – Shane Kalb (p. 26)
Human Alchemy – Nathan Powell (p. 28)
Bridges of Cayuga County – Michael Rhynes (p. 31)
The Bridge That Unites Humanity – Jacob Russell (p. 32)
The Arkadido Bridge – Jack Newton (p. 33)
A Bitter Cure – Christopher Shapard (p. 34)
Topspin – Ian Greene (p. 36)